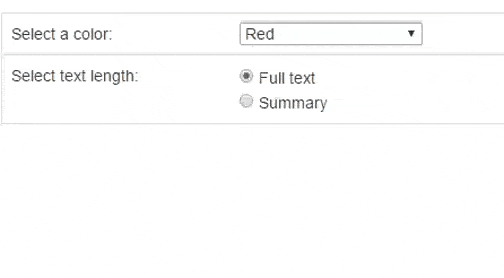 Simple example
<select id="fruits">
    <option value="apple">Apple</option>
    <option value="banana">Banana</option>
    <option value="mango">Mango</option>
</select>

<!-- Plugin options given inline -->
<div class="banana-section"
data-condr-input="#fruits"
data-condr-value="banana"
data-condr-action="simple?show:hide"
data-condr-events="click">
    Here are the Banana options ..
</div>

<script>$('.banana-section').conditioner();</script>

Download
jQuery Conditioner source is hosted in Github. Use the link below to download the entire package.
Documentation
Plugin documentation is moved to a seperate page. Documentation page
Buy me coffee !
If you like this work and found this useful buy me a coffee ! your donation will motivate me to develop and support this work.